Rosana Nieto Ferreira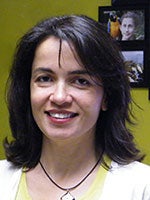 Associate Professor
Applied Atmospheric Science
Brewster A-242
252-328-0751
ferreirar@ecu.edu
she/her/hers
PhD, Atmospheric Science, Colorado State University, Fort Collins, CO
MS, Meteorology, Universidade de São Paulo, Brazil
BS, Meteorology, Universidade de São Paulo, Brazil
Research
Areas of Interest: Climate Variability, Dynamics and Prediction; Climate Modeling; Monsoon Dynamics; and Tropical Cyclones.
Dr. Ferreira's research integrates observations and numerical model simulations of the atmosphere to study the variability and dynamics of regional climate. She has applied these tools and a to the study of phenomena such as Amazon and African squall lines, tropical cyclone formation and environmental interactions, African easterly wave dynamics, tropical-extratropical interactions in the Americas, and cut-off lows that produce extreme precipitation in Spain. More recently Dr. Ferreira's NSF funded research lead to the discovery of a monsoon-like signal in the precipitation in the southeast United States. She is currently working on a modeling study of how this monsoon-like precipitation signal may change in a future warmer climate.
Dr. Ferreira's work appears in various peer-reviewed journals such as the Journal of Climate, International Journal of Climatology, Monthly Weather Review, Journal of the Atmospheric Sciences, Quarterly Journal of the Royal Meteorological Society, Bulletin of the American Meteorological Society, Geography Compass, Atmosphere, Investigaciones Geográficas, Journal of Geophysical Research, Meteorologische Z., and Meteorológica. Her research has been funded by the National Science Foundation (NSF), the National Oceanic and Atmospheric Administration (NOAA), and the National Air and Space Administration (NASA). In 2014, Dr. Ferreira was recognized for her teaching and research through East Carolina University's Scholar-Teacher Award.
Publications
---
Courses Taught
ATMO/GEOG 1300 – Weather and Climate
ATMO/GEOG 3230 – Global Climates
ATMO 4525 – Dynamic Meteorology II
ATMO 6525 – Advanced Dynamic Meteorology
ATMO 4550 – Applied Synoptic Meteorology: Analysis and Forecasting
ATMO 6550 – Advanced Synoptic Meteorology
ATMO 4590 – Tropical Meteorology
ATMO 6590 – Advanced Tropical Meteorology